We are based in Lanjarón, which is famous for its stunning scenery, outdoor sports and natural springs. There's also regular events that you could join in with. If you are not into cycling – don't worry – we have a whole range of other activities that we can help organise for you. You can also just chill by the pool at the villa.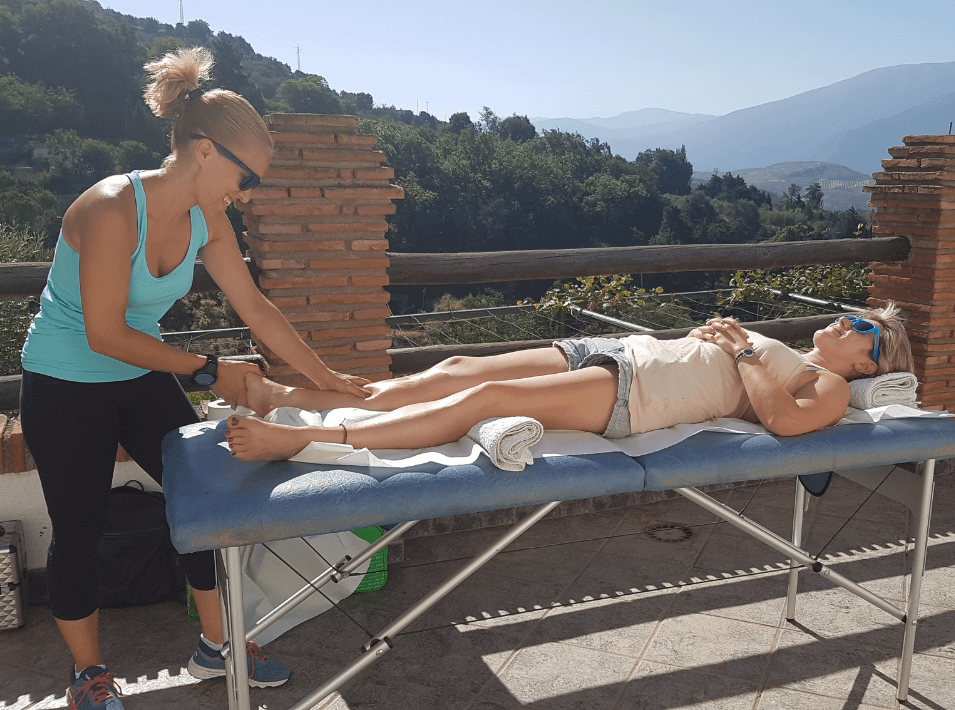 Massage & YOGA
If you fancy limbering up with some yoga or if you need a good rub down, we have the specialist for you. Ana is a pro at working with cyclists. You can book before you come over or while you're here and we can arrange for whatever you need.
Increasingly popular, e–biking is a great way to mix the traditional and modern. We can arrange to hire ebikes locally or bring your own, we can show you the best routes depending on your ability. However, we would suggest some experience is best to get the most out of it.
We also offer mountain biking packages. This means if you would like to try a different style of riding or are coming in a mixed group, we can make sure you get to ride the sickest trails. Experience is essential though as it's not a terrain suitable for newbies.
From beginners to experienced equestrians, Caballo Blanco Horse Riding & Rescue has something for everyone. An hour's ride, a horse riding lesson to days away, experience the peace of the mountains in a traditional style.
We are fortunate enough to be just a 45 minute drive away from the ski slopes, where they boast one of the longest seasons in Europe, from late November to May. Comprising of 103 pistes (16 green, 35 blue, 43 red, 9 black), and a skiing area of 94.8km.
Lanjarón is home to the famous Balneario Spa, boasting 6 mineral and medicinal waters to compliment their thermal pools and therapies. The water in Lanjarón is believed to have healing properties, so sit back and relax in the hot springs.
Lanjarón is situated close to the Costa Tropical beach towns of Almuñécar, Motril and Salobreña where you can soak up the rays and enjoy fresh seafood served over looking the sea. Don't forget to explore the variety of watersports on offer too, like scuba diving.
A small fortress was constructed in AD 889 on the remains of Roman fortifications. It was later renovated in the mid 13th century. In 1333, it was converted into a royal palace. This is where Christopher Columbus received royal endorsement for his expedition. Advance booking is highly advised.
The Alpujarras offers some of the best walking in Spain. It is to be enjoyed all year round, with the use of well marked routes and tracks. The GR-7 (a long distance footpath running from Athens to Algeciras) crosses at the end of our driveway.